FSBO is Realtor slang for For Sale By Owner. There is a lot confusion about what agents actually do and whether it is a good idea to try to sell your house yourself when you decide that it is time to sell. Lets dive deep into some common questions, misconceptions, and mechanics behind that decision.
Do most people hire and agent or do most people try to sell their house themselves?
Here are some numbers from the most recent National Association of Realtors report.
In 2006 51% of sellers went the FSBO route. In 2016, 8% of homes sold were sold for sale by owner. These days, 89% of home sellers work with a real estate agent to sell their home


The growth in the use of Realtors is partially explained by the increasing complexity of real estate, but I would say it is best explained by the rise of social media and the internet. Modern real estate sales is an online marketing game where reaching as many eyes as possible with the best advertising copy possible is more important than ever.
---
The primary two reasons people decide to go it themselves are to avoid paying a commission or because they received bad representation from a sales person in the past.
Reason 1: Avoiding Commission
Most agents charge 6% of the sales price when the transaction closes and avoiding fees is a major motivation for everyone.
A good question to ask is whether saving a small amount in fees is worth selling for substantially less money. The average FSBO property sells for more than 20% less than comparable homes that are listed by an agent (NAR).
The 6% brokerage fee mentioned above is actually split between the buyer's broker and the seller's broker. So the the total is the sum of a 3% Buyer Agent Commission (BAC) and 3% to the listing broker selling your house. If you sell FSBO, unless you are very lucky, you will still end up paying a 3% BAC. Maybe you can grind the buyer's agent down to a 2.5% BAC, but that negotiation is more likely to be successful if you have extensive industry knowledge and experience negotiating real estate transactions. Once you pay the cooperating broker who brings you a buyer, are you really paying that much more to get professional representation on the listing side?
Reason 2: Sellers that had a bad experience with an agent in the past.
This, unfortunately, is very common. The average full time agent closes less than 5 transactions per year and the average agent closes 1 transaction per year. What should you expect from an agent? Here is a breakdown from NAR about expectations broken down by age brackets.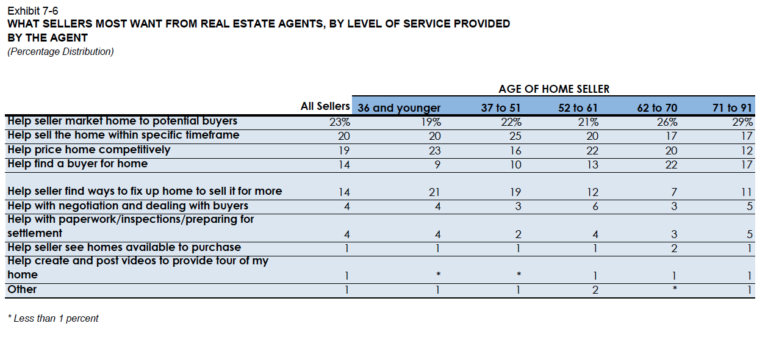 ---
What are the benefits of hiring a Realtor?
Selling a home without a real estate agent is like handling your own legal matter. You may only know enough to be dangerous, and worse yet, you don't know what you don't know. FSBO sellers risk costing themselves time, money, and an advantageous outcome.

Get access to the A-list buyers and increase competition by exposing the property to market forces
Your house must be posted on the Multiple Listing Service to reach the A-list buyers. That being said, make sure your agent has a marketing strategy that goes beyond posting on the MLS. Many FSBOs think they will successfully sell to a friend, neighbor, or family member, or they have been contacted by an unsolicited buyer who think they're all set to go. The sellers learn the hard way that an expression of interest does not make a transaction. Here is our marketing strategy with a proven track record of netting the highest possible proceeds in the least amount of time with the least amount of problems.
Advertising and marketing expertise
A good agent will advertise your home with professional architechtural grade photography. They will present advertising copy in a way that differentiates the home. It is amazing how a small change in branding changes the type of inquiries and the type of buyers that we procure on our listings.
Market knowledge
Qualified practitioners know the subtle pricing adjustments based on condition, neighborhood, comparables, and other market factors that can alter a home's appeal to buyers. Your home's value is not determined by the sum of parts. It is determined by what people have recently paid for similar products. Ask your agent about comps in your area, how to approach value, how to increase value, price bracketing, and price positioning.
Easy repairs , projects with a positive return on investment, preparing your home for market, and staging will result in you selling for thousands of dollars more than you would otherwise. Trends are constantly changing. If you are hiring a Realtor to sell your home, make sure that they coach you on what projects will have the highest return on investment and which small touches will differentiate your home from the competition.
Be careful using automatic valuations that you find online. Zillow's CEO recently sold his Seattle home for 40% less than the Zestimate.
Technology and systems
During the marketing phase there hopefully will be high showing traffic on your home. Make sure your agent has a team to coordinate showings. Digital signatures are more the norm than the exception these days. All leads require immediate follow up. Proper marketing should generate hundreds of leads from buyers that want to buy your home.
Negotiation
Before getting into negotiation. Your agent should vet the potential buyer for their ability and likelihood of actually closing. Everything from the buyer's situation to their financing to whether they are likely to cause problems in the escrow.
Market knowledge is important in knowing what is normal in various markets and price points. Is 100% financing normal? What if the buyer is requiring closing cost concessions? What are these conditions being placed on the offer and what are the normal time frames?
The Escrow
OK, we found the perfect buyer willing to pay top dollar and negotiated great terms. Guess what.... If your buyer is financing the transaction (they will be) there is still a 30 to 45 day escrow before closing. In that time frame the buyer is going to arrange financing, order a home inspection, probably demand excessive repairs that need to be negotiated to be reasonable, the lender will order an appraisal, and during this whole stressful time you are just hoping that the buyer performs. Managing and negotiating the escrow is more than half of why you hire a top level Realtor. Finding a buyer and negotiating the contract is very important, but post contract negotiation is really why you want someone experienced in your corner.
Legal risks
An experienced agent limits the chances of the transaction going sour and putting them at risk of a lawsuit and a damaged relationship if their buyer is dissatisfied later.
---
Bottom line of trying to avoid paying a commission
You will still end up paying a 3% BAC. So the savings are less than you might hope.
You have to pay all costs of marketing
Without access to the MLS or other aspects of your agent's marketing you will not have access to the "A-list" buyers and will sell for less money.
You may be an experienced negotiator, but negotiation, in any field, requires market expertise unique to that market. In this case, that expertise is unique to real estate transactions.
Escrows are full of potential problems. It is helpful to hire a Realtor to handle all problems, make sure you don't give too many concessions, and guide the transaction to closing.
---
Thinking of selling your home for top dollar? HERE IS HOW TO DO IT
Ready to get started? GET STARTED